I recently released a new version of Zombie Wasteland on Google Play (It's the same version as is currently on Newgrounds, but you can get it here).
The recent chapters mostly involve getting to know the Martin family, & depending on the options you choose, you can get them to trust you... or not. 
I had to write this a fair few times: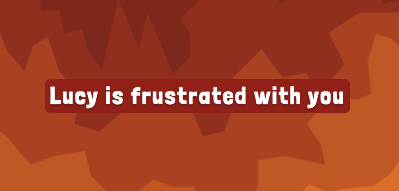 The story stays with them for a few chapters, before... well, you'll see. 
There's an option of romance too, although fleeting. 
I'm hoping this will be the last update before the big one, where I actually finish this story off. 
I played this through today & actually it took a lot longer than I expected, over an hour from start to finish. Although I was editing & making notes I suppose. 
If you play this through, let me know how long it takes you, at a normal reading pace. 
I've also added a link to the feedback form at the end, where I'm hoping people will help by providing ideas, & pointing out bugs I need to fix. The feedback form can be found here: 
https://us1.list-manage.com/survey?u=47b13cf1c95f1e5d37b420f94&id=e52eaf27ad